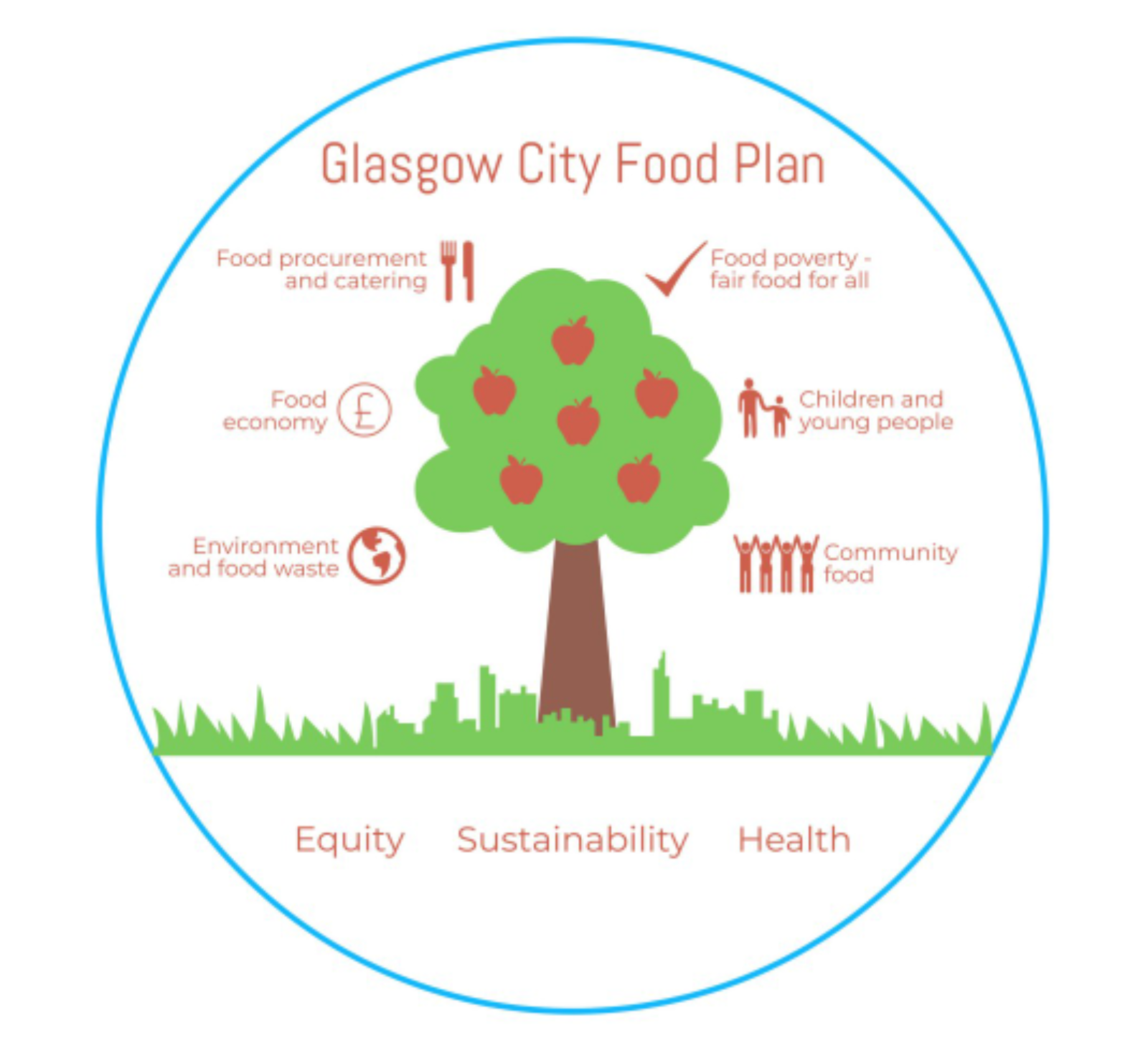 Glasgow City Food Plan
Glasgow City Food Plan is a holistic 10-year plan aiming for Glasgow to be recognised for its good food and as a city where tasty, healthy, affordable food is accessible to everyone. The plan has 6 themes and is based around 3 overarching pillars – Equity, Sustainability and Health.
The Plan was launched at an online event with over 300 delegates. You can watch the recording of the launch event and a short animation about the plan. You can also read the media coverage about the plan. The Glasgow City Food Plan was been developed by a team comprising Glasgow Food Policy Partnership, Glasgow Centre for Population Health, Glasgow City Council, Glasgow Health and Social Care Partnership, NHS Greater Glasgow and Clyde and Glasgow Community Food Network.
Over 2 years, the food plan team worked together with over 80 stakeholders to develop actions for the plan which went out to a public consultation from October to December 2020. Responses from individuals and organisations have been taken into account in the final plan.
You can read the Consultation Summary HERE.
GFPP will oversee the delivery of the plan and is guided by 6 themed working groups listed below. In addition to these groups, a city-wide Urban Agriculture Working Group looks after delivery of the food growing actions of the plan. Communications Working Group has also been set up to ensure the messages from the plan are delivered widely. The first progress report for the plan is being compiled, and will be available in Autumn 2022.
---

Good Food For Glasgow Campaign
Glasgow Food Policy Partnership launched their 'Good Food for Glasgow' Campaign at the City of Glasgow College on Friday 6th May 2022. It marked the beginning of a yearlong campaign to engage people with the new and existing Good Food work that is taking place in Glasgow.
The Good Food for Glasgow Campaign aims to get more people involved in 'Good Food' activities in Glasgow and to Increase knowledge about Glasgow City Food Plan and the work of our partnership. We hope the campaign will help Glasgow become a Silver Sustainable Food Place in 2023.
Find out more about the Good Food for Glasgow campaign and the Good Food Policy Partnership.