The Funded Groups: What Did They Do?

Awarded in June 2022, 10 groups across Glasgow each received £1500 to put towards existing or new projects related to food and climate in their communities. This was made possible thanks to funding from The National Lottery Community Fund and formed part of our larger Demand for Land campaign, part of the Food and Climate Action project.
The projects ranged from bee-keeping in the East End, to community meals in the West and community-led surveying of food provision in the South.
Read on for a very brief look at what was delivered:


Central
CWIN
Central and West Integration Network were able to continue some fantastic work they were already delivering with the funding they received. Their grower, Willow, had already established a team of volunteers and had strong relationships with the people who were attending the growing sessions; this pot of funding allowed them to continue to maintain this growing group and continue to support their development and learning.
Part of the funding also went towards a family activity day which not only attracted their existing groups but welcomed people new to the organisation as well.
The funding... allowed us to continue an activity that was already running successfully. We would have not been able to continue our growing sessions without this funding.


Old Basin Tavern

---


East
PEEK
PEEK delivered their activity, 'Little Explorers' for families with young children out of the Wash House Garden. They spent time with the adults and children playing, harvesting food and cooking foods such as beetroot frittata, blackberry crumble and salads. The sessions also allowed for development of the toddlers hand eye coordination as well as safe exposure to risks, with the pond and an open fire in the Garden used as a learning tool, and opportunity to try new foods.
New foods were introduced with many of the adults saying the kids were trying and enjoying things they wouldn't have tried previously and have asked for recipes so they can replicate at home.
PEEK reflected that the main take aways for families was that freshly made and nutritious food is cost effective, easy to make with the kids and can be made with locally grown sustainable ingredients; that food growing can be done by anyone, anywhere; and getting outdoors isn't just for sunny days.

Wash House Garden
Wash House Garden delivered a much-asked for beekeeping course (Bee Club), which they said was not only enjoyable for the participants, but beneficial for the market garden too. One participant commented:
I loved learning about the bees in such a hands-on way, it's really special to be able to learn about bee-keeping in such an accessible way.
Following on from the success of the first Bee Club course, the Wash House Garden were able to secure more funds to redeliver the course. They have also continued to welcome back course participants to help with the hives and the garden.
---


North
African Relief Support
African Relief Support delivered a series of cooking workshops with the Food and Climate Action Fund. They worked with their community groups to cook-up delicious dishes and build upon cooking skills.
Barmulloch Community Development Centre

---


South
Freedom From Torture
Freedom From Torture used their funds to deliver growing and cooking sessions, resulting in the Growing and Cooking Recipe book. They gave us such a comprehensive write-up to the project that we thought we should let their own words speak for themselves…
In a world where countless individuals have endured the devastating effects of Torture, fostering integration, resilience, and hope is paramount. Acknowledging the transformative power of community and the healing potential of cultivating and sharing food, a remarkable project has emerged – the Growing and Cooking Recipe Book. This innovative initiative not only explores the multifaceted aspects of growing and cooking but also serves as a means to deliver a message of support, strength, and solidarity to torture survivors within diverse communities...

...Within the garden group, members have shared their own cultural knowledge about agriculture, herbalism, and connection to nature. Firm friendships have bloomed along with the beautiful wildflowers, and Bowling Green has provided a welcoming community hub for members and an antidote to social isolation. We have celebrated many occasions together, such as carving pumpkins for Halloween, sharing iftar and Eid, Shabat dinner, and hosting a big Harvest festival event.
Freedom From Torture will be launching their Growing and Cooking Recipe book in the coming months. Make sure you follow them to keep up-to-date. We will also be sharing news via our newsletter.
Quotes from participants:
From Kuwait: I was losing hope due to my circumstances, but I felt like now coping, knowing that I am part of something greater than myself
From Kurdistan: I was a farmer in my back home I used to grow vegetables and fruits, the project has given me the opportunity to reconnect again with my passion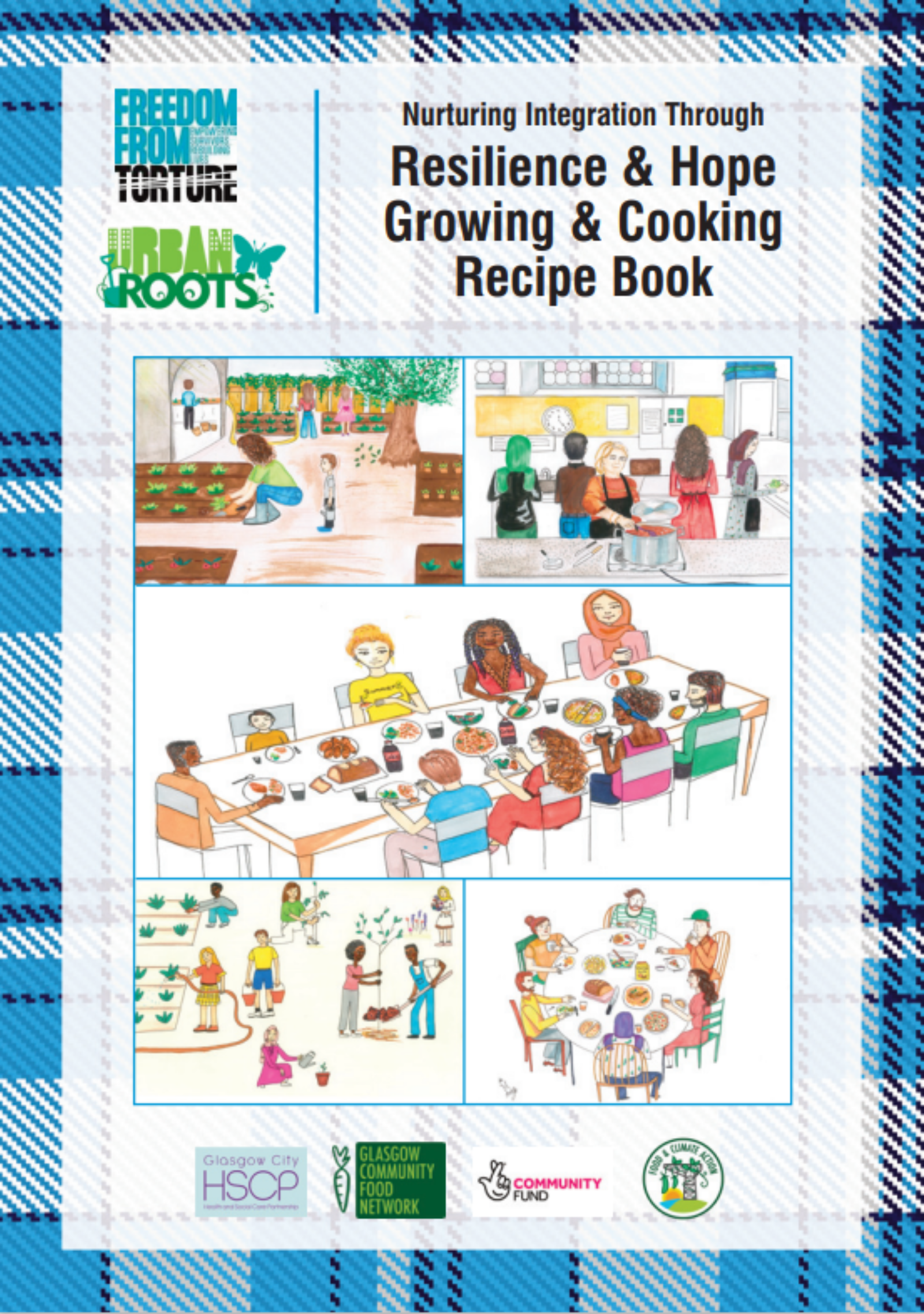 Pollokshields Community Food Point
Pollokshields Community Food Point ran a community-led evaluation of local food providers, specifically looking at how sustainable they are including, importantly, their sustainability.
A group of 19 people met weekly to scope out the project, collectively set the criteria for assessment and ways of conversing with food vendors, along with which vendors they would approach.
7 vendors were approached and 3 agreed to be interviewed.
Pollokshields Community Food Point held a celebration day at the end of the project, and will be presenting certificates to the 3 vendor who took part during the Summer of 2023. They will be announcing more of their findings - which provide an insight into how local, smaller-scale consumers and vendors consider the climate and cost - in the Summer. Make sure you follow them for the latest (again, we'll also share news in our newsletter).
---


West
Linkes
Linkes delivered a hugely successful community meal with all 80 places taken - even they were surprised that everyone showed up! All the food was eaten which, really, is enough feedback. However, attendees also said:
Please do more of these events it's good for the kids and parents.
Linkes have said they will be delivering another community meal following this model.

Knightswood Secondary School
Knightswood Seconday School delivered a Winter community fayre with their funding and have another planned for the Summer. Our Community Activator for the West attended the fayre and said:
It was heartwarming to see pupils supporting their local community through preparing and serving delicious food, doing a charity raffle and fronting a gardening stall for people to plant winter bulbs to take home with them.