Demand For Land Campaign Recap

The Demand for Land campaign is now over - find out more with our free Campaign Pack
---
Our Demand for Land campaign is now well underway and we felt it was time to take a breather and reflect on the successes so far. From awarding £15,000 to community groups across Glasgow to run their own food and growing projects, launching a survey to find out what would make it easier for Glaswegians to access land, to running a week-long free festival we've been off to a great start.

Read on to find out more about the work we've done so far on the Campaign and what you can still get involved with.
Funding
As a prelude to the Demand for Land campaign, the Food and Climate Action team awarded 10 groups across Glasgow with £1500 each for projects relating to food growing and climate action in the community.
The funding was awarded through a participatory budgeting event with funded projects ranging from a student-led community hub garden in Knightswood Secondary School to a series of workshops linked to learning from COP26 from African Relief Support.
Find out what they got up to with the money.
Did You Know? Facts and Figures
To demonstrate the reasoning behind our campaign and why we're so passionate about it, Food and Climate Action team member, Mark Hanlon has pulled together a list of facts and figures about the current situation of land for food growing in Glasgow.
For example, do you know how allotments there are in Glasgow, or what the Council's commitment is to a wait-time for a plot? Find out now!
Festival of Growing Events
Following on from the Dandelion festival in Kelvingrove Park over the weekend, our Food & Climate Action team led on a week long series of events all about growing in Glasgow. This kicked off with Solstice Celebration on Tuesday 21st of June where everyone and anyone was invited to the Pollokshields Bowling Green for food, dancing, drums and workshops such as Eco Drama storytelling sessions, wormery building, and activities linked to the Glasgow City Food Plan. Other events over the festival included a Big Networking Lunch at the Garnethill Multicultural Centre with talks from Glasgow City Council and local project Zam'munda; a climate cafe in west of the city in partnership with Kingsway Community Connections and a Friday of learning and networking at our 'So You Wanna Be A Grower?' event at the Hidden Gardens.
To find out more about these events, take a look at our social media channels.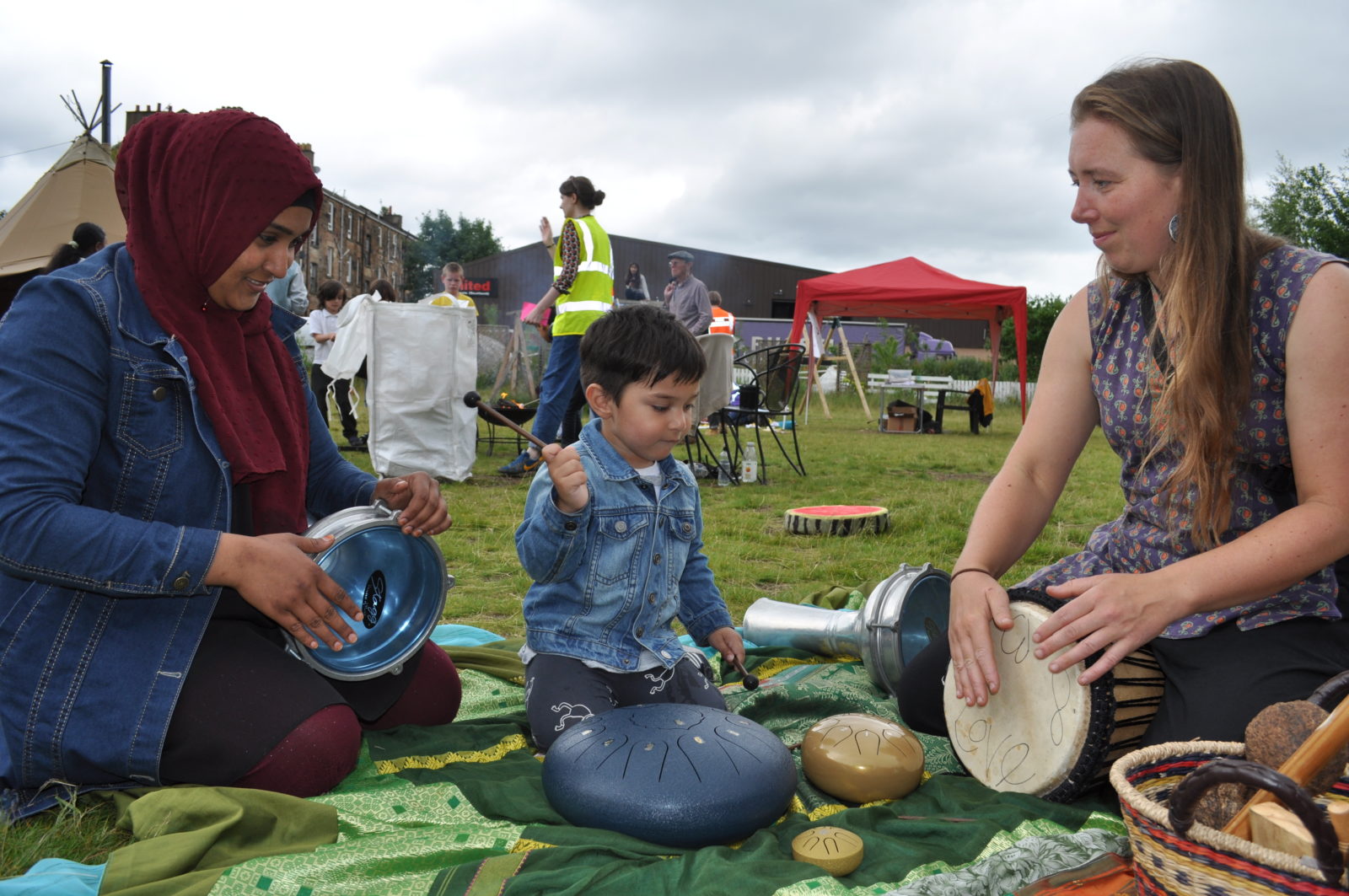 Show What You Grow
We have a few ways that you can get involved with the Campaign, but we think the most exciting is our 'Show What You Grow' competition. We want to see what people all over the city are growing, be it in their window boxes, back court, community gardens or urban farms. Take a photo or draw us a picture so we can see all the wonderful things that are happening. And if you don't have access to land, then draw us a picture of what you would grow! Feel free to add a wee message for the council as well!
The winner will be selected at random and will win a guided foraging experience for you and your friends or family.
How to join:
👉 take a photo of what you grow in Glasgow - window boxes, back courts, community gardens, urban farms all welcome
👉 if you don't grow anything draw us a picture of what you would if you had access to land
👉 upload it to social media
👉 tag us!
👉 Use #DemandForLand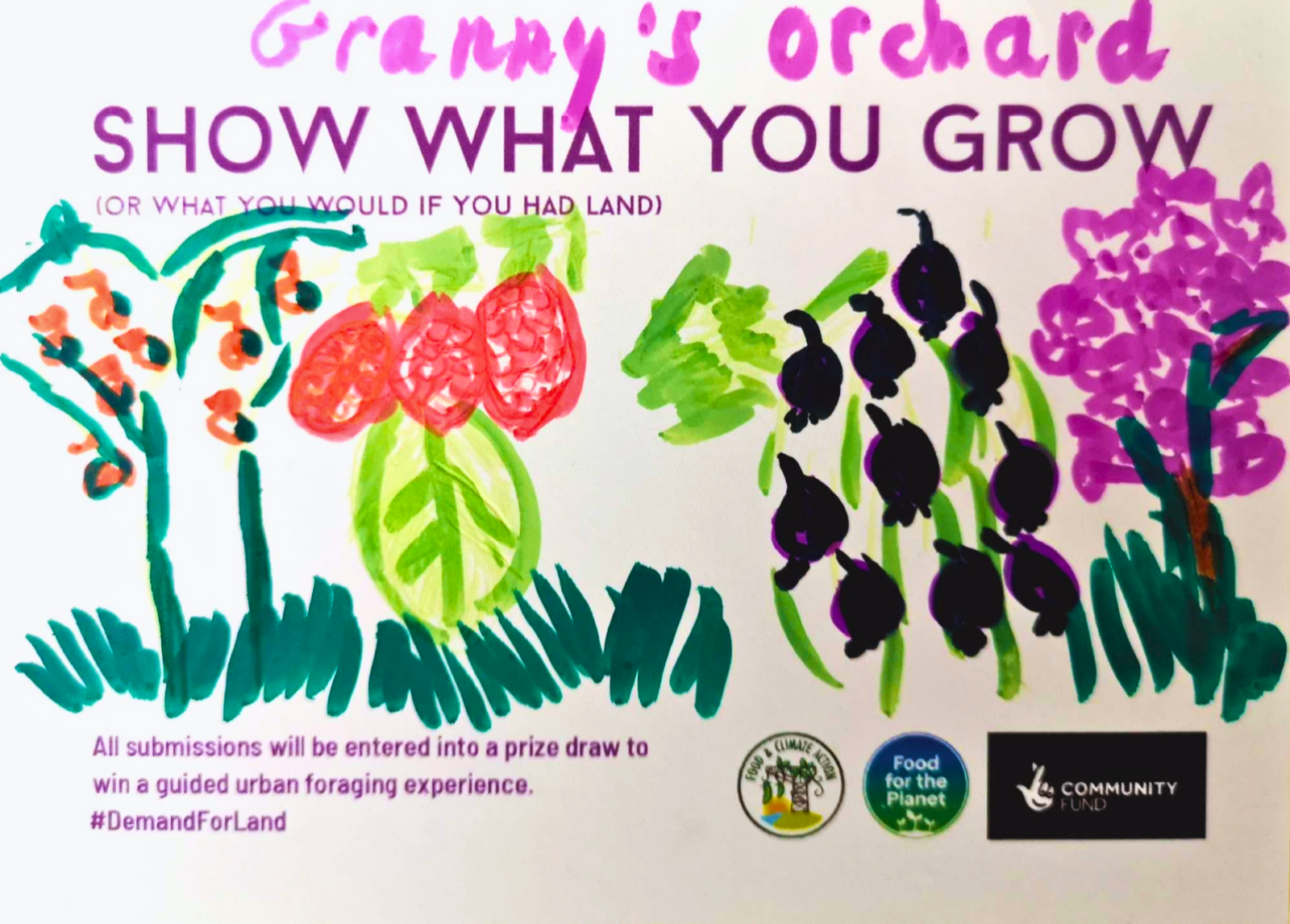 Podcast
Our Food and Climate Action team teamed-up with Glasgow Food Policy Partnership to chat all things foodie campaign related! GFPP are running their own campaign, Good Food For Glasgow which has many related themes with our Demand For Land campaign.
Food and Climate Action Project Coordinator, Charlotte, and Judy Wilkinson from Glasgow Allotments Forum chated with Thalia Groucott, Coordinator of the Good Food for Glasgow Campaign.
The podcast focuses on the benefits of growing your own food and how making food growing more widely available in Glasgow can make good food more accessible for all. This episode touches on topics such as the feel-good-factors of being more connected to food and disconnecting from the capitalist systems and practices associated with current mainstream food production methods and will signpost you to relevant links for more hints and tips for getting involved in growing your own food.
Survey
Our Demand for Land survey was one of the first pieces of activity we launched for the campaign, on 4th June. In under 4 weeks, we had an unexpected and very welcome 42 responses. These responses are helping us to understand the interest and number of people and organisations in Glasgow that are currently looking for land for food production. The purpose of this survey is 2-fold: 1) so that we can figure out how best to support Glaswegians in accessing land for growing and 2) to lobby the council to meet those requirements that we don't have the capacity to do so. We've had a range of responses so far with needs and suggestions for making accessing land easier including:
More land being made available
Free public transport to growing sites
A map of growing sites
Projects to teach people how they can use their back garden spaces
The survey will be open throughout the summer. Add your thoughts.
Demand for Land is running throughout the summer, so be sure to check back regularly or follow us on social media for regular updates.
Demand for Land is made possible with thanks to Food for the Planet, and funders Esmée Fairbairn Foundation & The National Lottery Community Fund.
The Demand For Land campaign is part of Food and Climate Action, a project delivered in partnership by 6 organisations in Glasgow and funded by The National Lottery Climate Action Fund.