Food and Climate Action in Glasgow
This World Environment Day we're celebrating the start of our new Food & Climate Action project and asking for your ideas about the kind of Glasgow-grown activity you want to see happen.
The Food & Climate Action project will work alongside communities across the city to cultivate a more resilient local food system through activity that includes increasing growing opportunities, COP26 food fringe events, and food education.
Funded by the National Lottery, the project is a partnership between Glasgow Community Food Network, Glasgow Eco Trust, Central & West Integration Network, The Space, Urban Roots and St Paul's Youth Forum. It is directly aligned to the ambitious Glasgow City Food Plan which, after an extensive public consultation, will be launched online on the 15th June.
Earlier this week, members and partners of the Food & Climate Action team joined together by the river Clyde to mark the beginning of the project.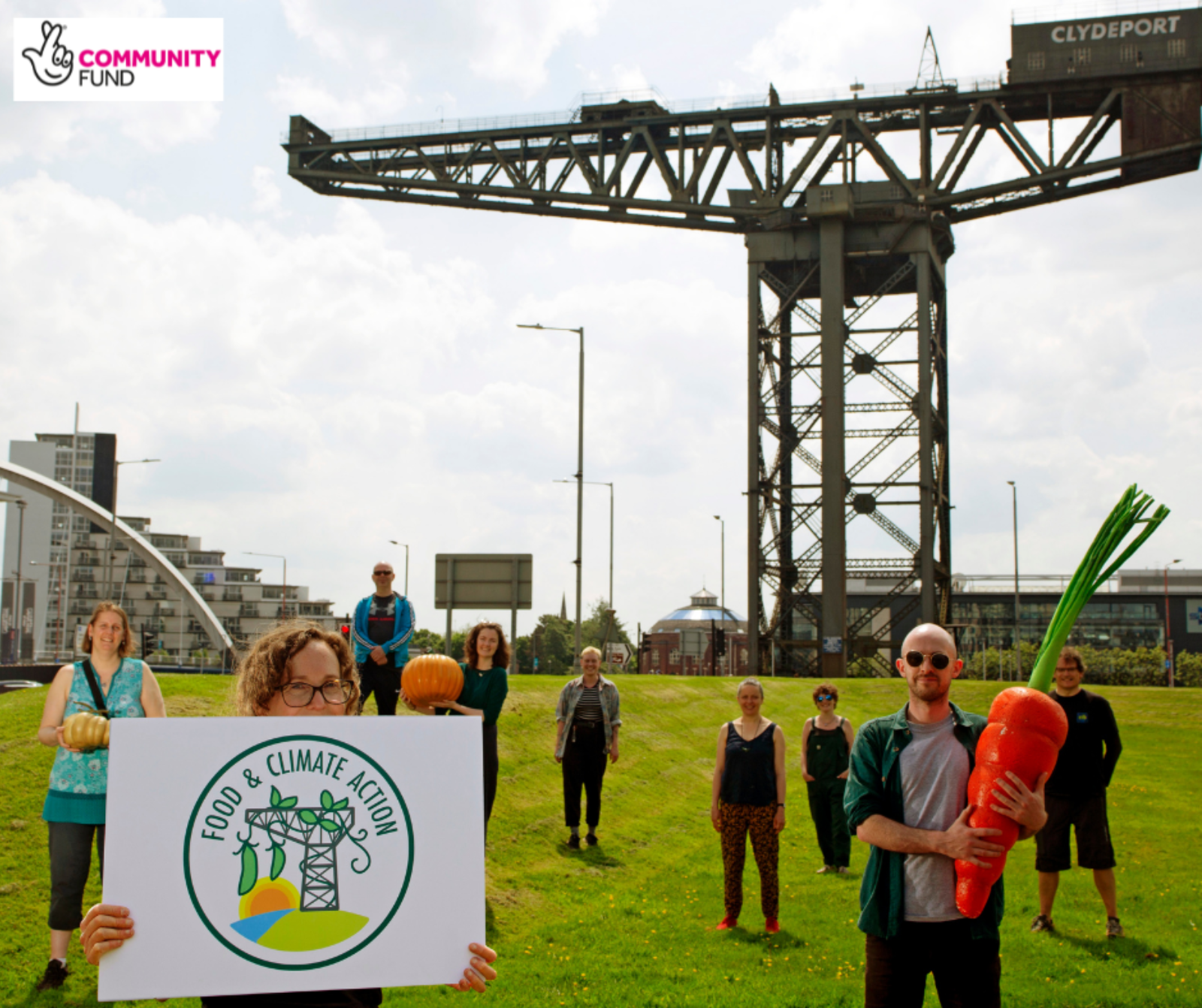 Credit: Max Crawford, www.maxcrawfordphoto.com
All partners are calling on any individuals or organisations interested in finding out more to attend one of the upcoming 'Food & Climate Cafes' which will be happening during July in different locations. The cafes will be an opportunity to feed in suggestions that will shape the work of the project, with funding available in 2022 for community groups to make their ideas a reality.
Register your interest to attend at the link here or get in touch with us directly at [email protected]

Read more from the National Lottery and our partners:
This new project received £629,582 from The National Lottery Community Fund's UK wide Climate Action programme.
The National Lottery Community Fund's Scotland Chair, Kate Still, said: "We are delighted to be funding this unique partnership of experienced food organisations in Glasgow through our UK wide Climate Action Fund, which encourages groups to consider the climate impact of their projects. By bringing local people together to collaborate on plans for a fairer, healthier and more sustainable food system, it will inspire a community action that is fundamental in tackling the climate emergency. National Lottery players can be proud to know that they have played an important part in bringing this carbon reduction project to fruition."
Melanie Hall, Coordinator, St Paul's Youth Forum: "We're very excited to be working with GCFN and the other host organisations to future-proof the Glasgow food system on a micro- and macro- scale. Strengthening the connections between local communities, across the city and beyond, is crucial for tackling climate change in a concerted way. We're especially keen to make sure that the voices of people living in marginalised communities across the city are heard by those in positions of power when it comes to COP26."
Neil Lovelock, Project Manager, Glasgow Eco Trust: "Glasgow Eco Trust is delighted to be a partner in this innovative Food and Climate Action project. With the world's eyes firmly focused on the COP26 climate talks in Glasgow in November the need for collective action has never been more pressing. We look forward to working with our partners and local people and communities across the city to make a real difference to what gets served up on people's plates!"