The Glasgow City Food Plan launches on June 15th 2021.
The Glasgow City Food Plan has been developed by a team comprising Glasgow Food Policy Partnership, Glasgow Centre for Population Health, Glasgow City Council, Glasgow Health and Social Care Partnership, NHS Greater Glasgow and Clyde and Glasgow Community Food Network. Over the last 2 years, the team has worked together with over 80 stakeholders to develop actions for the plan which went out to a public consultation from October to December 2020. Responses from individuals and organisations have been taken into account in this final plan which aims to make food system in Glasgow more Sustainable, Equitable and Healthy.

We hope that you are able to participate, and we would kindly ask you to register here at your earliest convenience to confirm your place. After registering, you will receive a confirmation email with information about joining the meeting. You will also be sent the final Glasgow City Food Plan prior to the event
We hope to welcome you to the event next month!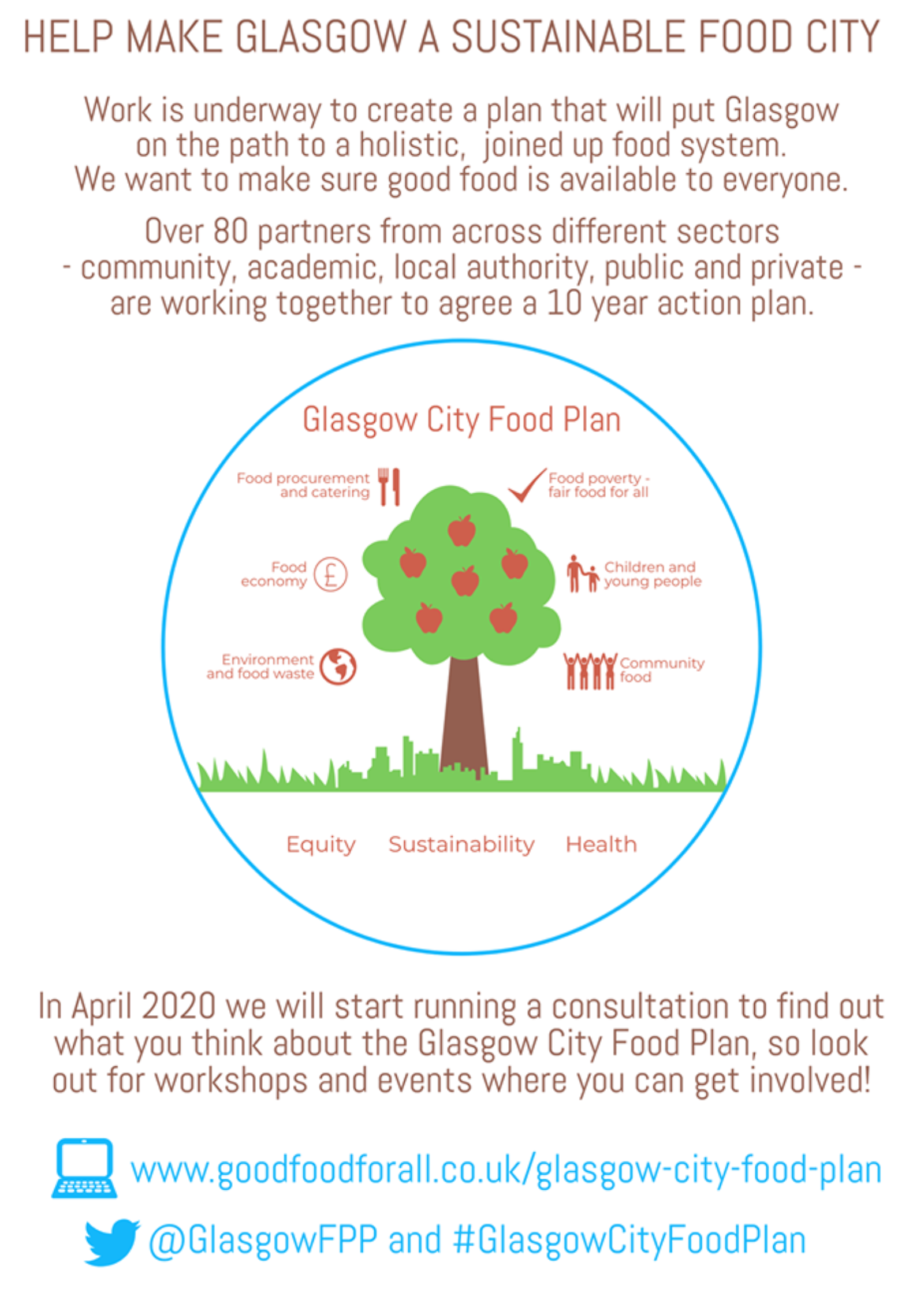 Glasgow City Food Plan a collaborative work in progress that aims to shape Glasgow's Food System to something more sustainable, healthy and equitable.

We are part of a Project Team leading the development of Glasgow City Food Plan. The team consists of colleagues from Glasgow Centre for Population Health, Glasgow Food Policy Partnership, Glasgow City Council and NHSGGC.

A development day was held in December 2019 to start the development of the Plan. You can read a summary of the Development Day here. Presentation slides are available here.
You can read about the development of the plan under the following 6 themes here.
Upcoming Events:
We will be running more consultation events soon so keep an eye here and on our Facebook Page.
Past Events:
23rd February 2020 - Glasgow City Food Plan Workshop @ Glasgow Potato Day