Food and climate action fund - inspiration

Have you heard about our Food and Climate Fund? Think you could really do with the money but aren't sure if your project fits?
Well, we're here to let you know what goes. We've brought together a few examples of what we think would be a great use of the money and could be done with £1500. This isn't a full-scale list; we wanted to provide you with some food for thought (pun intended) to sow the seeds (also intended) for your ideas.
---
Zines

Zines are self-published documents, often printed but sometimes accessible only online. They are sometimes sold to cover costs or to make a profit and are sometimes freely available. As they are self-published they're typically quick and cheap to produce and can platform one voice or many voices in the form of written and visual content.
They can be a fantastic way to engage with people, both by collaboratively making the zine and by using them as a tool for sharing information. Perhaps you want to create a low-food-waste recipe book, or want to highlight the ways in which your community is already making positive environmental impacts. You might want to share planting tips or create a map and introduction to local growing spaces.
We've been inspired by zines made by Rumpus Room, and Küche. Rumpus Room, an artist-led org working in collaboration with young people, children & families on art and social action projects are based in Govanhill. They made Around the Table, which explores food in their neighbourhood and which was made with a small group of children, families, artists, friends and grassroots food organisations living and working in the Southside of Glasgow. It includes lockdown recipes, artwork, wild food & food waste tips and a map of places in the South of Glasgow where you can access food for free. Also by Rumpus Room are the zines: Adapt & Act Issue 1 - Climate Action; Adapt & Act Issue 2 - Becoming a Food Citizen and; Becoming a Food Citizen Workbook.
We also really liked Küche's zine, Tomorrow's Kitchen, a graphic novel cook book authored by the community. Küche is a social business creating food led events, community projects and multicultural catering in collaboration with people navigating the UK immigration system. They used their project Tomorrow's Kitchen to "amplif[y] a collection of unique voices, using food and illustration to describe experiences that make us understand a little more about humanity and the wider world around us."

Groups
Perhaps you have a community group you already run sessions with or are interested in starting a new one. Cooking or gardening groups are 2 great examples of how you can bring people together with this fund.
Cooking or gardening groups provide a great opportunity to bring people together whilst sharing cooking and growing skills and knowledge about how to make climate-positive food choices.
Perhaps you want to lead a cooking session yourself or you'd like to hire an external facilitator to work with a group you already work with. Community Food and Health, Scotland has an incredible resource page on the benefits and impacts of community cooking sessions including a handbook on setting up a cooking group, class toolkits, a whole host of other projects to learn from, and a directory of organisations that run cooking sessions.
---
Community Diaries

As socially engaged projects, you're probably all very aware of the knowledge, skills and tips community members already have. Maybe you want to make use of this knowledge and harness it going forwards. You could start a community diaries project.
The Shettleston100 project by the FUSE cafe has just started to look for community volunteers to "complete diaries which will help identify how Shettleston and the surrounding community can save money and the environment." In return, the volunteers will have the opportunity to be part of a documentary and join in with interactive workshops.
Remember, your projects don't have to reach a large amount of people. Instead, they might work closely and intensively with a few people to unearth some real gems of knowledge, new approaches and big impacts.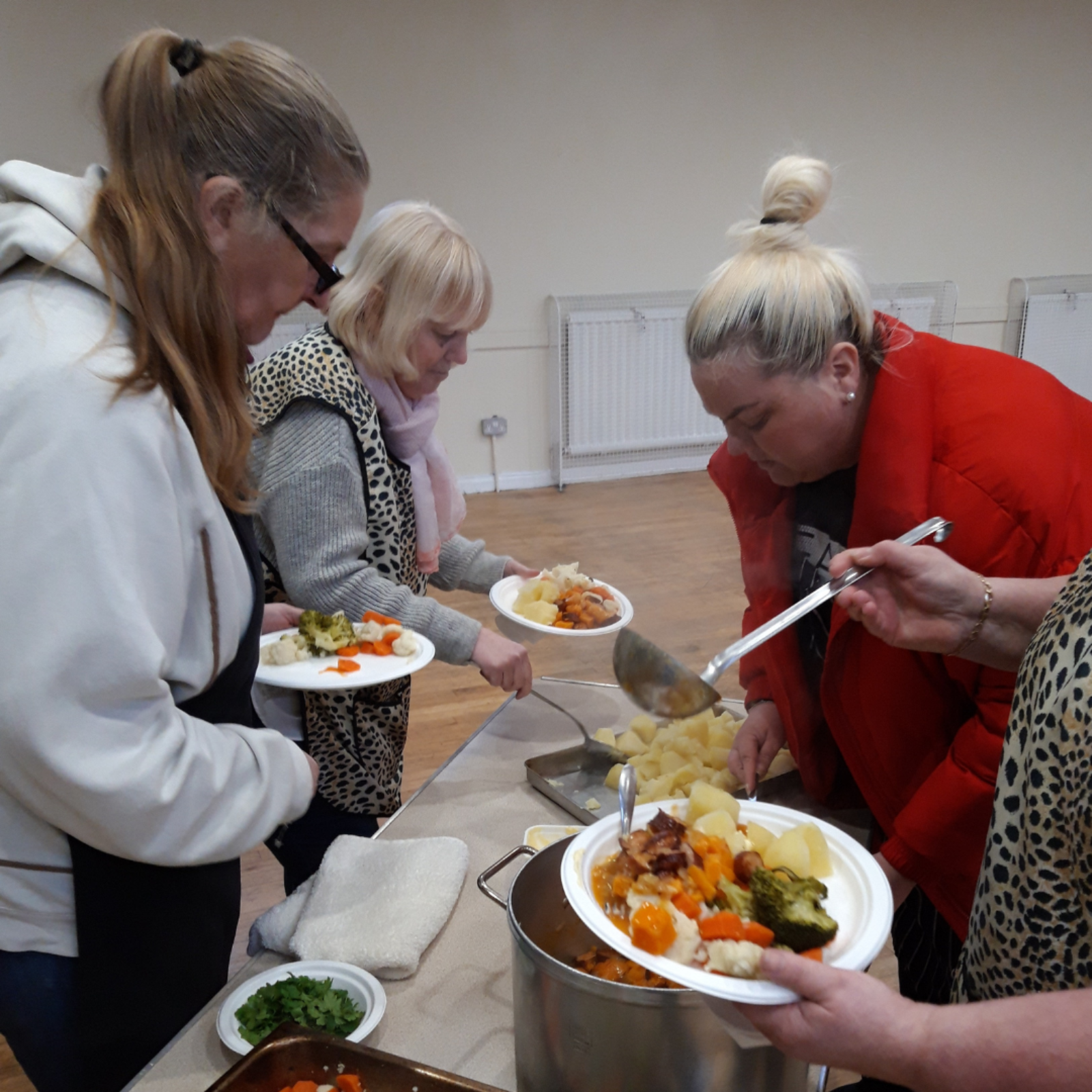 Events
We've mentioned community engagement running over a length of time, but we're also open to funding one-off events. This could be a community garden open day inducting new volunteers with tutorials and workshops for the public, hosting a seed swap or a large community meal. Could you run a series of workshops on foraging, caring for fruit trees, mushroom cultivation or seed saving? As long as it features food and climate action, we'd love to hear about it.
---
Resources
Do you already have a great project running but need a cash-injection to make it run a little smoother? Have an idea for an activity that also needs some resources?
Well, we're also happy to fund materials, equipment and other resources which will be of community benefit. For example, composters in community spaces to reduce waste which are accessible to the public; or some new kitchen equipment for a community cooking group with a climate-friendly focus.
Your resource must be connected to some kind of community engagement. This can be as simple as a series of induction events on how to use the composter or cooking groups that make use of the new equipment.
---
We hope we've given you some idea of the range of projects we're excited to hear about. We're happy to fund new and existing projects with diverse approaches, goals and ways of working, as long as the project meets our criteria of:

being of clear benefit to the local community
being linked to the food system
including climate action
But if you have any other questions, please do get in touch with Mark at [email protected]
---
This funding is made available through the Food and Climate Action project, funded by the National Lottery's Climate Action Fund.