Food and Climate Action Fund
Do you have an idea to improve the food system in Glasgow that you want to make a reality? Will it benefit local people and the planet? Then we want to hear from you.

For inspiration on things we might fund, check out our article, 'Food and Climate Action Fund - Inspiration'.
Please download the application form as a word doc, complete, and send it back to us at [email protected].
---
What's it all about?
We are a two year project called Food & Climate Action. We are a partnership of six organisations aiming to create a more positive food system in Glasgow that is kinder to people and the planet. We have a team of Community Activators based in five regions of the city leading on supporting community-led action in each area.
With help from the National Lottery, we are excited to be able to fund £15,000 to support 10 groups across the city to take their own activity forward. We are able to provide £1,500 per group, to 2 groups in each regional area.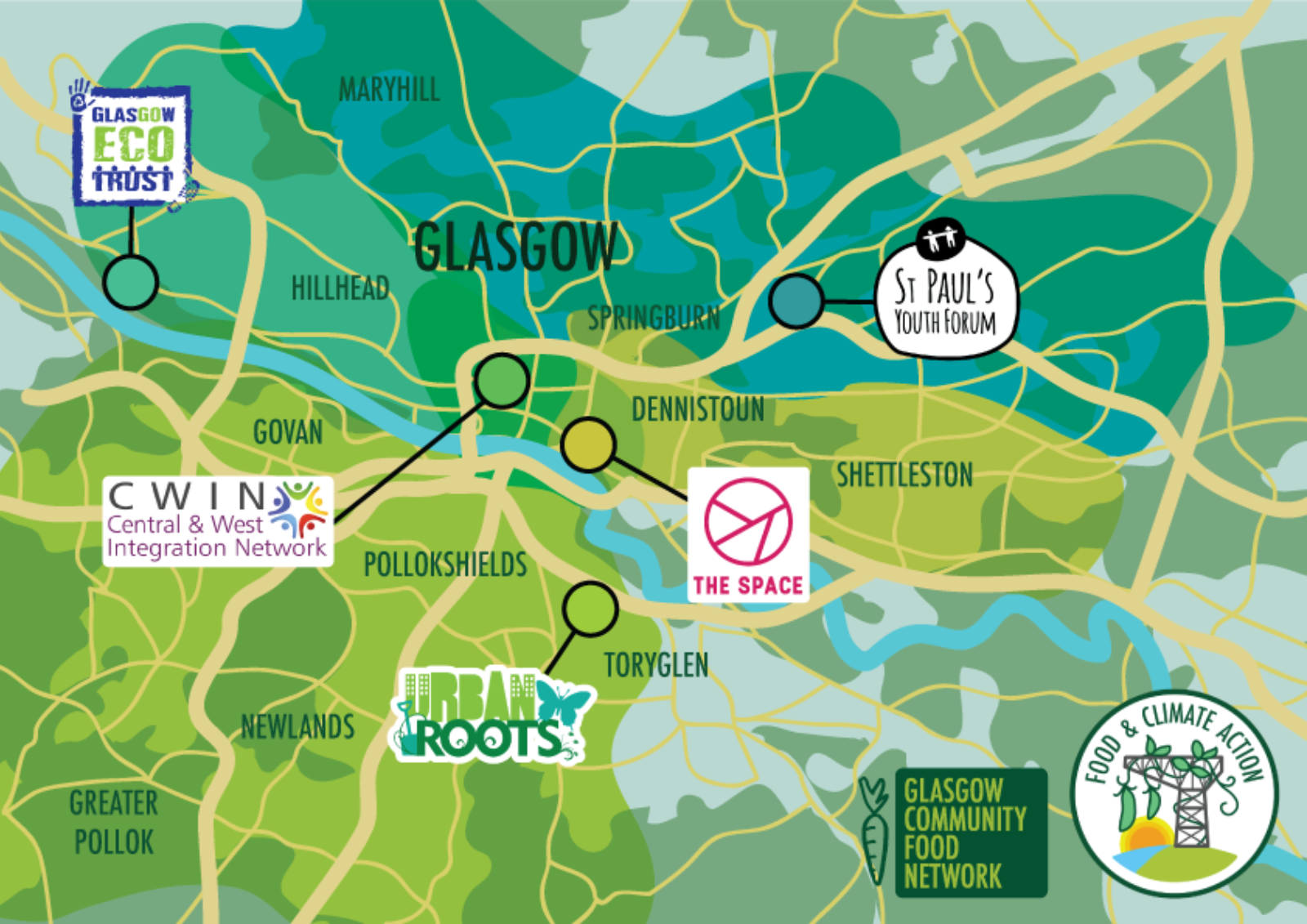 Across the city, work is ongoing to make connections and link people together who are passionate about food, climate, and making positive change. This includes local food forum meetings of interested organisations and individuals, food education workshops and events, and regular climate cafes. All applicants will have the opportunity to connect with the forums and activity taking place in your area in a way that will hopefully strengthen the impact of your plans.

The Food & Climate Action Fund is part of the strand of our project that aims to create spaces where people can come together to discuss environmental issues and explore how to affect change in their local area. Through the fund we are hoping to resource and support the seeds of change.
---
What can be funded?
We would like to support small-scale, community-led projects, on a local level in Glasgow.
We are hoping to see a range of exciting ideas and can fund the following: activities, events, equipment, resources, and delivery time including staff costs, training costs, transport and volunteer expenses. We can also fund small land or building projects. We can't fund any fundraising, political, or statutory activities, or alcohol.
Your idea must have a clear benefit to the local community. In your application explain how you know that this idea will be positive or useful - have you had any kind of consultation with your local community?
Your idea must be linked to the food system, but it could be anything to do with food - growing food, cooking it, ways of preparing it, sharing it, learning about it - and eating it! It must also include climate action. This action can be about awareness raising, reducing the environmental impact of food in some way, or encouraging behaviour change. For example, you could focus on reducing food waste, or activity that supports more local food to be eaten or produced, or events that raise awareness of a specific issue or give people in your area the opportunity to learn a new skill.
We are open to funding both new and existing projects. Your idea could be running a new series of events, or plans to engage a new audience. It could be about strengthening your current service, adding a new element to the delivery, or enhancing the community benefit of it. The funds could also be used to purchase resources that will help action in your area. If you are hoping to use the available funds on physical resources there needs to be a clear way that the community will access this resource both during and after the funding ends.
In your application, be sure to let us know how your idea is starting, expanding or strengthening food and climate action.
---
Eligibility criteria
In order to apply for this fund your project must:
Be linked to community-led food and climate action
Be based within the Glasgow city boundaries and linked to a specific area of the city
Be a constituted group with a business bank account
Be available on 20 June to pitch your idea and make the important decision on who receives funding in other areas of the city
Be willing to join and participate in your local food forum
Be able to complete your project by December 2022
Read the 'What can be funded?' section of this application carefully to understand what we're looking for in your application answers. We will be assessing applications by how well the idea links to what can be funded, by the benefits to the local community, and by how effective the use of the funds is.
Successful projects will be required to sign a memorandum of understanding with Glasgow Community Food Network, outlining the work, spend and things you want to achieve.
For reporting and evaluation, successful projects will be asked to provide updates in the form of photos and quotes from participants as their plans progress as well as feedback in September in the form of a short phone call or questionnaire.
---
Timeline
21 April: Applications open
Time to get your ideas down on paper! Download the application form and send your response to [email protected] by the application deadline. If you have any questions in the meantime just drop us a message.
26 May: Applications close
Get your response in to us by the 5pm on the 26 May to be in with a chance of pitching your idea to other applicants on the 20 June.
3 June: Results of first round
We'll be aiming to share the results with all groups by Friday the 3 June so you've got time to prepare for the funding event later in the month.
Early-June: Training for successful groups
We'll be hosting an interactive training session on how to communicate the idea for your project effectively. All successful applicants from the first round of the process will be invited to help them prepare for the funding event as part of the Glasgow Festival of Growing in June. All materials will be shared with all groups for those who can't make it on the day.
20 June: Food & Climate Action Funding Event
If you're successful with this short application you'll be invited to a funding event as part of the Glasgow Festival of Growing on the 20 June.
At the event, all groups will be split into the area of Glasgow they are planning their funded activity to happen in (North, South, East, West, Central). The winning projects in each area will be decided by the groups from the other areas - all the power is in your hands. So if your activity is going to be based in, for instance, the North of the city, you will pitch your idea to the groups from the other areas of the city. They will then decide on the two winning groups from the North. And you will be able to vote for who you believe should win in the other four areas. We anticipate activity happening soon after the pitching event with the funds available to the successful groups in late June or early July.
September: Evaluation
In September, successful groups will have a short phone call with the Food & Climate Action team to reflect on how the funded work is going or fill in a form. We'll be asking for information on the kind of engagement and feedback you've had with the local community
December: End of Activity
As the end of the currently funded phase of the Food & Climate Action project draws near we'll be wrapping up activity. All the main activity and spend of your project should be completed before the end of December.
---
Don't forget to read our article, 'Food and Climate Action Fund - Inspiration' for more ideas on the sorts of things we might fund.
Good luck! We really look forward to reviewing all the great ideas Glasgow has.